A medicine cabinet is a staple fixture in bathrooms. This is where you store your medicines, toiletries, and a few other bathroom essentials. Unfortunately, it is just another bathroom staple and is rarely regarded as an aesthetic addition to this space. That is about to change as you can now find a variety of medicine cabinets with lights and mirrors. These fixtures provide a sleek addition to your bathroom so that it serves more than just a functional purpose, it can be decorative, too.
Tips for Shopping Medicine Cabinets
When you are shopping for medicine cabinets, there are a few things you need to consider. The first thing you must keep in mind is the installation. Medicine cabinets are mounted onto a wall, also known as surface-mounted. This makes it easy to access them as they are typically on the eye level of the user.
You can also find modern ones that are recessed so they help you save space in the bathroom while giving a contemporary twist to your bathroom décor. When you opt for the recessed medicine cabinets, though, it will require extra work. You need a hole in the wall that you can fit the cabinet into.
Meanwhile, there are also medicine cabinets that have lighted and mirrored effects. This is a huge step out of the traditional look of medicine cabinets. If you are looking for mirrored cabinets with lights, you have come to the right place. This is a list of the best-lighted medicine cabinets with mirrors.
Best Medicine Cabinets with Lights and Mirror
Use this guide to find the best-mirrored cabinets with lights that are worth investing your hard-earned money on.
LED Mirrored Cabinet
LED lighting is a common fixture in modern homes and contemporary spaces. The LED mirrored bathroom cabinet from SODLC is a good investment for your money because it looks sleek and contemporary. Featuring clean and crisp lines, it is the best addition to transform a simple space and make it ultra-modern.
It is available in single, double, and triple door mirror cabinets. Thus, you can choose what suits your bathroom based on the available space and desired functionality. It has a dimmer switch so you can reduce the illumination depending on whether you need task lighting or ambient lighting. It is equipped with a soft-close mechanism to ensure that the contents are kept safe inside.
Choose a color temperature that matches your lighting needs. You can also customize the size of the LED mirror cabinet based on your preferences.
Aio Lighted Medicine Cabinet
This lighting cabinet makes the list because of its versatility. The amount of brightness can be adjusted so you can dim it when necessary or increase brightness for functional purposes. Therefore, you can set it from bright daylight to warm tones in a single flick of a button.
It is also made with interior glass shelving to provide a contemporary look to your medicine cabinet. With 4 inches in-depth, it is a little deeper than most medicine cabinets in the market. It translates to more space for you to fill for the medicines and other bathroom essentials.
This particular lighted medicine cabinet is available at a more expensive price tag than you would find in other models in the market.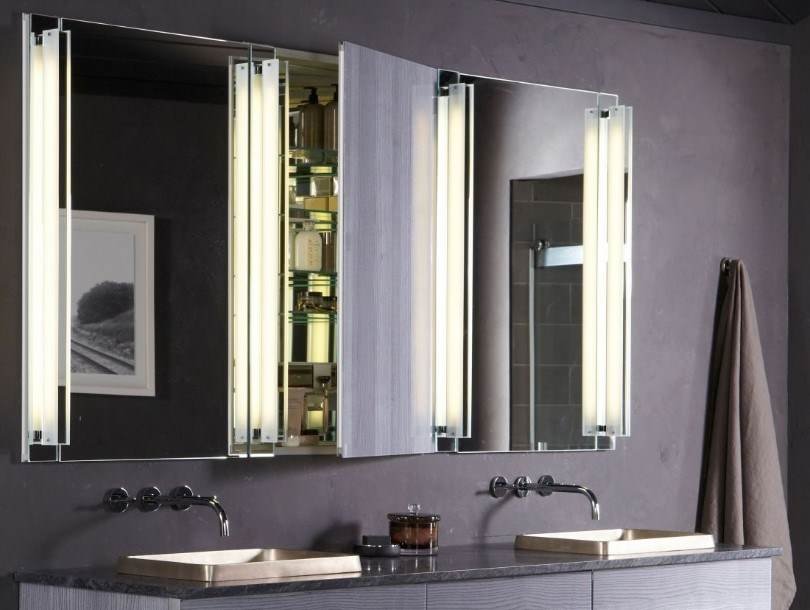 LED Illuminated Bathroom Sliding Wall Mirror Medicine Cabinet
This is a tall medicine cabinet that comes built-in with a bright LED lighting function. It comes with a very bright light so you can get maximum lighting when you need it most.
One of the most unique features of this model of the mirrored medicine cabinet is the sliding door. To open, you can slide it to the left or right. It does not have a hinged opening so you can save space when opening or closing the door to the cabinet. There are three interior shelves measuring 30 inches each. Hence, you can get an adequate amount of room for storing your bathroom essentials such as toiletries and medicines.
This mirrored cabinet can be plugged in and does not require hard-wired installation. This can be a downside as it would be difficult to keep wires hidden. When it comes to value for money, this model can give you that.
Lighted 2-Sliding Doors Medicine Cabinet
This is another sliding door medicine cabinet model on this list. Unlike most other models here, it uses incandescent bulbs (instead of LED light) that can be operated via a switch function.
The lights provide sufficient illumination in the bathroom so it can be used for task lighting purposes. The sliding door makes it easy to access the contents of the cabinet and keep an eye on the mirror. It is a great way to upgrade your traditional medicine cabinets because the mirror and the lights provide your bathroom with a sleek look.
Triview Medicine Cabinet
This lighted medicine cabinet is one of the best options for 2021 because it is made up of 4 bright lights. These lights provide sufficient illumination for your bathroom, especially when installed near the vanity. It is also available at a decent price so you don't have to pay a lot of money to enjoy its functional and aesthetic benefits.
You may install this medicine cabinet onto a wall recess. It measures 30 by 30 inches so you have adequate space to store your medicines and toiletries. It has a simple yet modern design and is well-built. Because of the choice of design, it works well with a wide range of bathroom décor styles. The warm white color makes it suitable for a wide range of interior styles.
The Bottom Line
There are a variety of models to choose from if you're looking for the best medicine cabinets with lights and mirrors. These are some of the best ones available in 2021 and they are carefully curated for you to choose from. Be inspired by these styles whether you want to mix and match or create a one-of-a-kind piece to transform your bathroom.
At SODLC, you can get the best bang for your buck. This manufacturer specializes in illuminated mirrors and can provide the solution you need whether you want functional or decorative lighting for your bathroom.