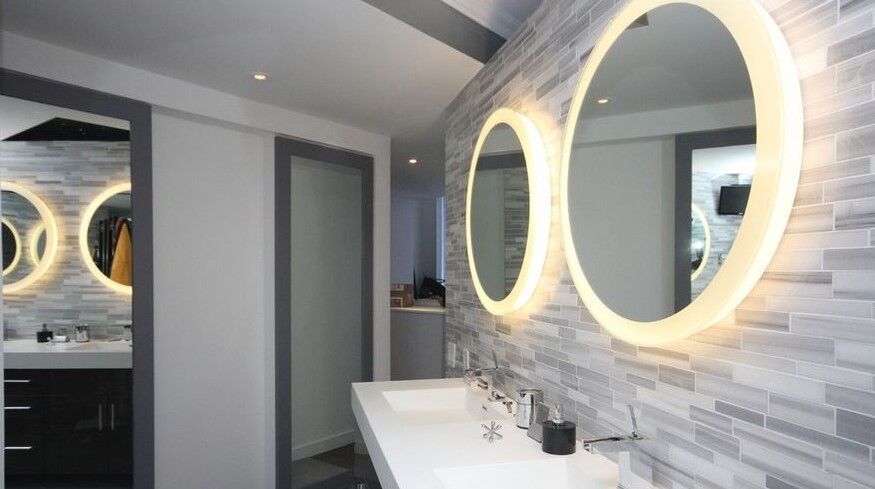 There are so many reasons why you would want to invest in vanity mirrors with lights. This is obviously a practical fixture in the bathroom because this is where you set up for the day ahead or after you had a bath. You also need lighted vanity mirrors because you want to be able to use the space during the night with ease.
However, a bathroom vanity mirror is more than that. It has transformed over the years to become a decorative accent. The style you choose can elevate the bathroom's existing style. It can also create a visual illusion since the use of mirrors can reflect on light and make the bathroom space appear bigger.
Why Choose Round Mirrors?
Round vanity mirror with lights is one of the most popular options these days. The round shape of the mirror adds an element of softness to the room. This organic shape is a great option for bathrooms to make the space feel more relaxed and natural. If you want to make your bathroom feel extra cozy, you might want to invest in a round vanity mirror (and a lighted one, too).
Illuminated options are everywhere these days. This isn't surprising given that it provides the illusion of more space because you have more corners peeking through the mirror. At the same time, you have more negative space in the bathroom to create a contrast to your other aesthetic details. When all else fails, the round shape can create an appealing contrast since bathroom spaces are typically shaped to be rectangular or square.
Best Round Vanity Mirror with Lights
Round mirrors are a décor trend that won't quit. There is no surprise why they are a favorite among designers and homeowners. This is true not just in the bathroom; circular wall accents are a hot item in the interior design industry.
If you want to add a round vanity mirror with lights to your home, this guide offers the best options you can find in the market.
Iridia Bathroom Mirror with Lights
Iridia bathroom mirror with lights is one of the best additions to make your bathroom interior stand out. It is available in various dimensions so you can find the perfect size and fit for your bathroom. It also comes built-in with LED lighting that radiates from the round vanity mirror. This creates a beautiful and striking effect when installed on the wall of your bathroom vanity.
The level of illumination can be adjusted to your preference. There are concealed buttons behind the mirror that you can access if you want to brighten or dim the light. It is a practical round mirror that does not compromise on style and functionality.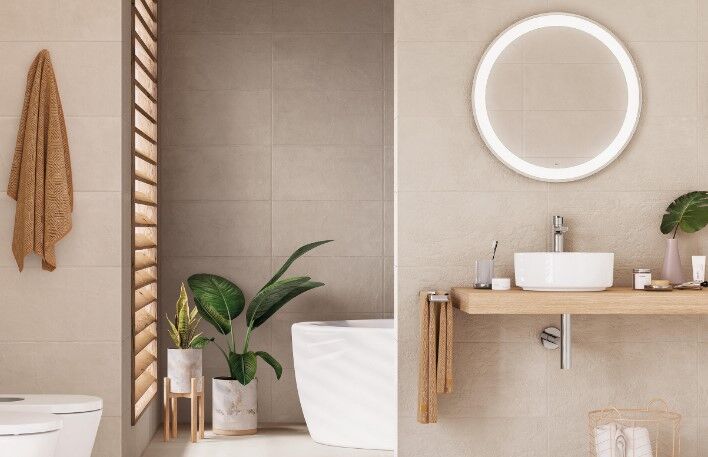 Monterey Backlit LED Bathroom Mirror
If you are looking for a round vanity mirror that packs a lot of style points, then this is it. It is a thing of absolute beauty; the design features geometric patterns on the outer circumference to give your bathroom a contemporary makeover.
It also does not lack when it comes to functionality because it is made with a touch-sensitive power button. The framed design is integrated with LED lights that give superior illumination to your bathroom. The silver frame finish adds a touch of luxurious detail to your bathroom.
Delphia Frameless Lighted Bathroom Mirror
This is another modern-looking bathroom mirror with a round shape that would be a perfect addition to your vanity. The frameless design is cleverly executed and delivers simplicity with a touch of elegance. If you prefer minimalist accents for your bathroom, this fixture is the way to go.
This Delphia mirror features a simple round design that is ideal for modern bathrooms. The 6000K LED lights emerge from the sides of the round mirror to create a frosted glass edge effect. It is also constructed with an aluminum structure to create more modern accents. This round mirror is available in two design options: 24 x 24 inches and 30 x 30 inches. Choose the size that best suits the size of your bathroom.
Dimarco Frameless Lighted Bathroom Mirror
Frameless round mirror designs are the new standard when it comes to modern bathroom mirrors. Here's another one from Dimarco for you to consider adding to your own bathroom.
The frameless design gives it a minimalist look; if you prefer this style, then you will love the style accent it brings to your space. The design approach is not overly done. Instead, it is clean, neat, and crisp. This mirror is powered by batteries unlike most other models on this list.
This helps to eliminate the hassle of dealing with potential wire issues during installation. And the fact that it is battery powered, provides more versatility so you are not just limited to using it in the bathroom or the vanity area.
Monterey Lighted Bathroom Mirror
This is another Monterey mirror on this list because it deserves a spot. Made by Latitude Run, it is a great addition to your bathroom if you need a mirror and lighting fixture in one. This isn't technically round in shape; it is more of an oval mirror.
The mirror provides LED lighting along its edges. The LED lights emit up to 2830 lumens of light so you have sufficient lighting to perform basic bathroom tasks. But it isn't too shabby when it comes to aesthetic value. It is visually appealing and can work with a wide range of bathroom styles.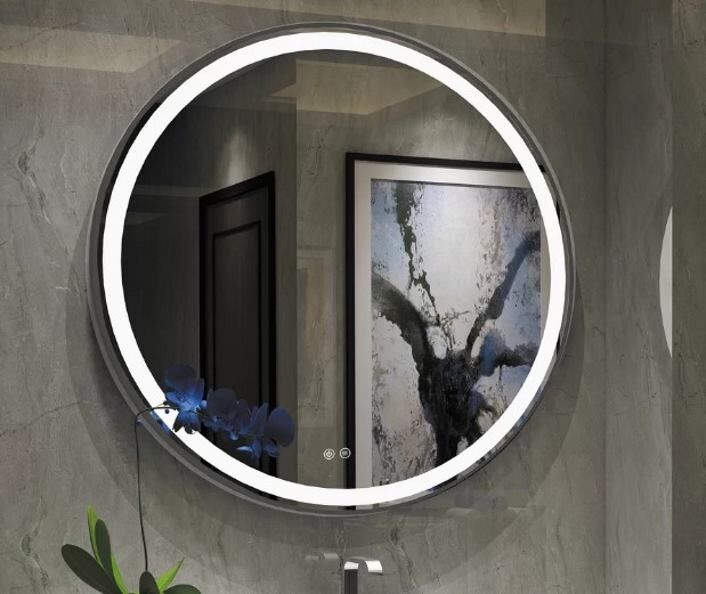 The Bottom Line
Round vanity mirrors with lights are a trend that won't go away soon. But if you want to challenge the status quo, you can opt for rectangular or square-shaped bathroom mirror designs. This is more than just a practical consideration because you have more space available. It also provides more illumination so you can perform basic bathroom tasks with ease. The square design emphasizes the clean lines and crisp details of a modern décor style.
If you are ready to stand out when it comes to your bathroom style, don't just settle for the popular round vanity mirror with lights. You can mix it up with more unique shapes that achieve your desired look.